Consulting
Joe Reilly regularly provides training, consulting, and educational presentations for employers, labs, collectors, TPA's and others involved in workplace drug testing. Joe can customize presentations or consulting projects to help startups, improve business development results, assist in acquisitions or exit strategies...
Learn More
Training
All training programs can be customized for your organization and delivered via live training at your facility, computer based training, or webinar training. Joe Reilly regularly provides training for employers, labs, collectors, TPA's and others involved in workplace drug testing.
View Training Courses
Expert Witness
Expert witnesses are used in a wide range of litigation and their opinions are often viewed as critical—frequently they can make or break a case. Joe Reilly has the experience and expertise to help you win your case. There is no other drug testing industry professional with more drug testing experience than Joe Reilly.
View Details
Looking to Start Your Own Drug Testing Business?
Download our Free Report on everything you need to know about starting a drug testing business or drug testing mobile collection business.
Consulting for the Drug Testing Industry
Our services focus on training, expert witness and consulting for new business startups; we are the experts in the drug testing industry. We are known throughout the United Stated for our assistance in helping companies in the drug testing industry with various consulting and training projects. Whether you are looking for marketing assistance to grow your drug testing business, operational assistance or as an employer needing supervisor training or Designated Employer Representative (DER) Training; Joe Reilly and his team of highly qualified drug testing professionals can assist you.
Learn From Industry Experts
Joe Reilly & Associates, Inc. has specialized in training and consulting for the drug and alcohol testing industry since 1993 and offers a wide variety of consulting packages and training programs to grow your business. Joe Reilly entered the world of drug testing in 1993, he is well known throughout the industry and considered an expert on workplace drug testing issues. Joe served for nine years on the DATIA Board of Directors and served as Chairman of the Board from 2004 – 2008. Joe regularly provides training, consulting and educational presentations for employers, labs, collectors, TPA's and others involved in workplace drug testing. With particular emphasis on startups, business development, acquisitions, exit strategies, TPA training, DOT DER training, DOT Supervisor Training and DOT Specimen Collection training, Joe can customize a presentation for the needs of an organization.
All training and consulting programs are conducted under the direction of Joe Reilly, a national expert in the field of workplace drug testing. Joe has been active in the drug testing industry since 1993 and is a former chairman of the board of the Drug & Alcohol Testing Industry Association (DATIA). He has assisted hundreds of employers and drug-testing companies by providing expert training and consulting. Joe has a passion for the drug-testing industry and for helping others, especially those with an entrepreneurial mindset. Here are some of our most requested training and consulting programs:
"Joe, you are truly a pillar of our drug and alcohol testing industry, a visionary and a valuable resource for how to make a solution a "win-win" for all parties. I appreciate your professionalism, honesty and ability to think outside the box when faced with challenges and opportunities…"
As a master trainer for DATIA, Joe Reilly has conducted numerous DATIA trainings including:
Drug-Free Workplace Policy Development
Drug-free workplace policies can be created for all state-specific programs and all DOT agency requirements. These policies include everything companies need to implement their drug-free workplace program. Each policy includes a comprehensive manual that provides all the components of a drug-free workplace program, all forms needed for program implementation, and complete instructions for compliance. The following are components of a drug-free workplace program:
Most people coming into the drug and alcohol testing industry start as specimen collectors. The U.S. Department of Transportation has strict requirements for training and qualification of DOT urine specimen collectors. The foundation of DOT drug testing comes from a proper specimen collection that maintains the security and integrity of the specimen collected. Joe Reilly & Associates, Inc. has trained and qualified hundreds of DOT urine specimen collectors.
All companies utilizing drug testing will need specimen collection services. Most specimen collections are contracted out. It is extremely important that collectors are well trained and qualified to perform the specimen collections within applicable federal regulations, state laws, and best industry practices. A drug test event can quickly go bad at the point of collection if the collector does not follow the correct procedures.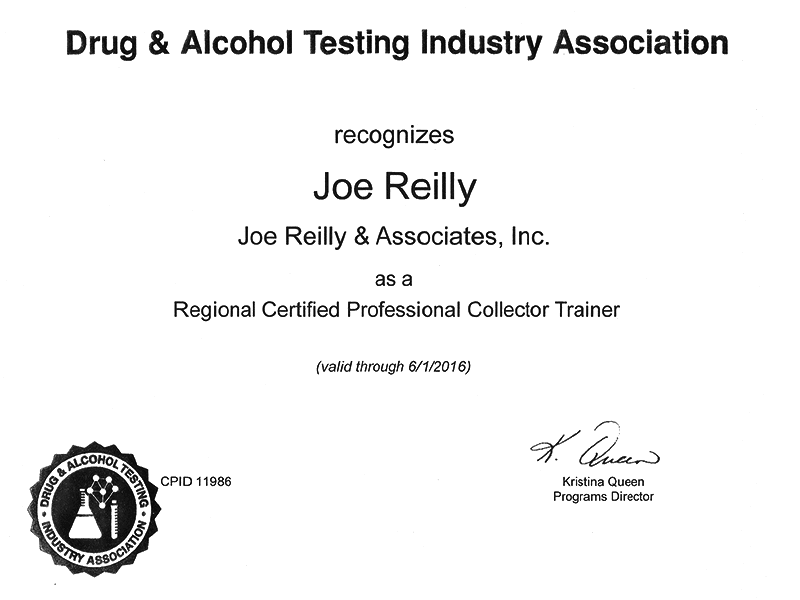 "Joe is a great leader and a well-known industry expert. He has provided invaluable assistance to our team in assisting with the training of our franchisees…"
We recommend all collectors become DATIA CPCs. This collector certification from DATIA helps to ensure that the collection is performed in a professional and consistent manner while maintaining confidentiality for the donor and security, integrity, and control of the specimen.
We recommend employers always use collectors that are CPCs and collection sites that have received status as an Accredited Collection Facility (ACF). Collection sites that have received the DATIA ACF status uphold the highest professional standards in the following areas: 1) the collection facility and its operation; and 2) the collection facility's personnel. To obtain accredited status, collection facilities are required to adhere to strict standards in areas such as regulatory compliance, company services standards, specimen handling, operational practices, business ethics, and facility equipment. All accredited collection facilities are also required to maintain a staff of CPCs.
Joe Reilly & Associates, Inc. can help you stand out from your competition by assisting collectors and collection companies to obtain CPC certification from DATIA and status as an ACF.
Third-Party Administrators (TPAs)
What is a third-party administrator in the drug and alcohol testing business?
The TPA business provides or coordinates a variety of drug and alcohol testing services to employers. This may be for DOT and/or non-DOT programs. Many drug and alcohol testing services are provided by service agents. Many times the TPA provides some of these services directly as the service agent, but often either some or all of these services are outsourced. Below are the service agents involved in the business of providing drug and alcohol testing and drug-free workplace programs.
Qualification and Experience – What makes a TPA qualified to do the job to meet an employer's specific needs? Ask the TPA to tell you. How much experience does the TPA have, and how long has it been in business? Does it service similar employers? Can it provide references? Is it an active member of drug-testing industry associations?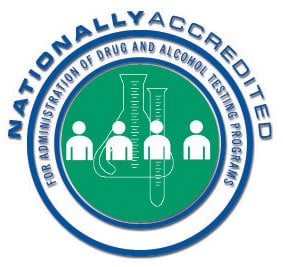 Certifications – What certifications does the TPA have that demonstrate its commitment to the industry, continuing education, and accepted standards? We recommend you look for a TPA that has received status as Nationally Accredited for Administration of Drug and Alcohol Testing Programs (NAADATP). This is an accreditation from the DATIA for TPAs. TPAs that receive NAADATP accreditation adhere to a national standards program for companies that provide drug-free workplace program management services to ensure they have company- specific standard operating procedures, safeguards, knowledge, and professional practices that keep their clients in compliance with federal and state drug and alcohol testing regulations. By utilizing a NAADATP provider, employers can be assured that the provider of services is in full compliance with regulations. Through the required contract process, employers are notified about what services they are being provided. When the client does not have all services the NAADATP provider offers, the contract spells out what additional services need to be performed for the employer to be in full compliance with any applicable federal regulations, state laws, and best practices.
Joe Reilly & Associates helps TPAs become qualified and demonstrate the expertise necessary to do a great job for employers needing drug and alcohol testing programs. We can assist TPAs with the process to receive status as NAADATP.
Expert Training and Consulting for the Drug Testing Industry
Whether you are a specimen collector, TPA, employer, or new to the drug testing industry, you can call Joe Reilly any time and speak to him directly. Initial consultation is always free. Providing drug testing services is serious business, and employers want to deal with experts. Maintaining a drug-free workplace program is also serious business, and employers have specific responsibilities that require them to be well-trained and able to count on expert assistance. Joe Reilly & Associates is a unique firm providing expert drug testing training and consulting to both the industry and to employers. A drug testing program has many moving parts. You need service, compliance, accuracy, and someone who will answer the phone when you need something. Call Joe Reilly today for expert assistance regarding:
Joe Reilly & Associates, Inc. - Services Available